Yvonne Jocks

Von Jocks

EvelynVaughn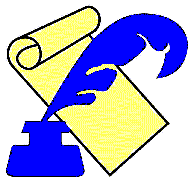 Stuff about ME... (well, you're the one who clicked the link...)

So who IS Yvonne Jocks?

As the introductory page says... I write stories.  That's my reason for having a website--that, and I'm lucky enough to have actually sold some stories.  (I like to think it's skill as well, of course, but I can't discount some element of luck, too).  Here  is a biography I sometimes use with my anthology contributions:

YVONNE JOCKS believes in many magicks, particularly the magic of stories.  She has written since she was five years old, and received payment of an a.m. transistor radio for her first short story, published by a local paper, at the age of twelve.

Soon after that, she decided writing wasn't lucrative enough to pursue professionally (transistor radios aside).  Luckily, this decision did not last like the fun of writing did.

Under the name Evelyn Vaughn (E. Vaughn), Yvonne sold her first romantic suspense novel, WAITING FOR THE WOLF MOON, to Silhouette Shadows in 1992.  She promptly bought a larger television set.  Three more books (BURNING TIMES, BENEATH THE SURFACE, and FOREST OF THE NIGHT) completed her "Circle Series," which featured witches and monsters, before the Shadows line closed.  The last won Favorite Science Fiction Romance in AFFAIRE DE COEUR magazine's 1997 Reader's Poll. 

After the demise of Silhouette Shadows, Yvonne turned to a series of historical romance novels called "The Rancher's Daughters"--BEHAVING HERSELF, FORGETTING HERSELF, PROVING HERSELF, and EXPLAINING HERSELF--for Leisure Books.  She also wrote a historical, SAY GOODNIGHT GRACIE, and a novella sequel for Zebra books. She also enjoys writing short stories and novellas in the Science Fiction/Fantasy and Mystery genres, including A DANGEROUS MAGIC from DAW books, which combined fantasy and romance, and other anthologies from Cumberland House. 

Yvonne's most recent projects have been a return to her witing as Evelyn Vaughn for Silhouette Books.  After several independent projects--BURIED SECRETS (a Silhouette Intimate Moments) and THE PLAYER (Book 3 of the Family Secrets series)--she has settled into writing for the new action/adventure line, Silhouette Bombshell.  Her first two books, AKA GODDESS (8/04) and HER KIND OF TROUBLE (11/04) are part of her newly created Grailkeeper series.  She's also contributing to the Athena Force series with CONTACT (2/05).

A resident of Texas for 26 years (after living in places as diverse as Window Rock, Arizona and Pearl River, Louisiana), Yvonne still loves the magic of stories, movies, books, and dreams.  Her enjoyment of literature brought her a Master's Degree at the University of Texas in Arlington (her thesis traced the history of the Romance Novel).  An unapologetic TV addict, she lives happily with her cats and her imaginary friends and teaches community college English at Tarrant County College, Southeaast Campus.   (All sentence fragments here are for effect.  Really.)

Why Three Names?

My real name is Yvonne Jocks.  My friends call me Von.  But when I sold my first book, the publisher asked me to take a pseudonym, and I was too green to disagree with them, so I chose a pretty good one:  Evelyn Vaughn.  That way, whenever I heard someone say, "Miss Vaughn," I would hear "Miss Von."  Also, with the first initial, that makes that particular pseudonym "E. Vaughn" (or Yvonne).

There are several reasons for authors to take pseudonyms.  One decent reason is so that readers won't be confused when a writer skips between two different genres--romance readers may not want a science fiction story, and vice versa.  Another reason is mine--the publisher wanted it.  See, this way I need the publisher's permission to use the name "Evelyn Vaughn" on other works (although neither can the publisher use the name on someone else's work).  Or I did, before they kindly changed their policy.  And a third is, to hide what one is writing.  NOT my intention!

Now I try to write my historicals as the more formal "Yvonne Jocks," and my contemporary paranormal stuff as "Von Jocks."  I figure most readers will be able to figure out that I'm the same person--and in the meantime, it differentiates between genres.


This is the page to find out:

Who am I?

Upcoming Signings and Workshops:

Last updated June 29, 2012

I'll be signing at:

Nowhere Scheduled

I'll Be Chatting at:

Nowhere Scheduled

I'll be giving Workshops at:

No workshops are currently scheduled.  However, I'm teaching CREATIVE WRITING at Tarrant County College, Southeast Campus, this fall semester, at two times.  1:00 pm Tuesdays/Thursdays, and  5:30-6:30 pm Mondays/Wednesdays.

Some popular workshops which I've given in the past are:

WHAT'S THE DIFFERENCE?  (Contradictory Criteria between Popular and Critically Acclaimed Fiction), and

THE THIRD OLDEST PROFESSION (The history of the Romance Novel, based on my thesis).

MISS KITTY VS. SUSAN B. ANTHONY (How can writers create heroines who are both strong and yet historically accurate for their time?  By validating feminine strengths, instead of simply defaulting to equating "strong" and "masculine")

TOUCH OF MAGIC (Using magic techniques in your writing - first given July 2001 with Maggie Shayne and Lorna Tedder at the national Romance Writers of America conference)

If you would like me to speak to your organization, feel free to e-mail me and we will see what we can  work out....


So what do I REALLY Look Like?

The beauty of writing is, I can spend a great deal of time looking however I want!  But if you're going to ask for a tangible illustration, I'll admit--the great logo, designed by my friend Laura Hayden (look for the Wyrd Sisters link!) is based on a photograph taken over ten years ago.  Here's a more modern version of me.  The sunstreaks weren't on purpose, but I like them, so this became one of my favorite recent photographs....

I'm the one in the life vest :-)

If you're curious, I'm almost 50 years old (and loving it), I'm an Aries, and Never Been Married.  And no, I'm not actively looking.


ORGANIZATIONS:

This list is only correct if I've been good at keeping up my memberships.  I should do so, because I think the number-one thing that has helped me become a published author has been the help and support of other authors, through writing groups.  And yes--online groups count!

* Romance Writers of America (since 1985)

* Science Fiction Writers of America (since 2001)

* Dallas Area Romance Authors (charter member, w/too many lapses)

* North Texas Romance Writer's of America (on and off since 1985)

* FF&P (Futuristic, Fantasy, & Paranormal chapter of the RWA)

* PASIC (Published Author Specal Interest Chapter), since 2002

* PAN (Published Author Network)